Polderlicht@home
December 10th, 2012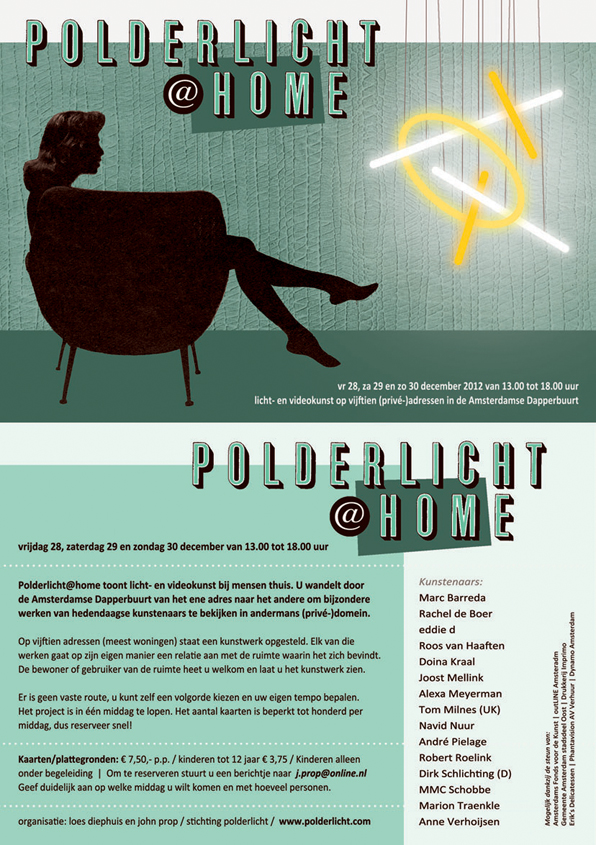 Polderlicht@home
28, 29, 30 december, 2012 – Amsterdam, NL
Site specific installation at the house of George Reinwardtstraat
ArtMen – Afl. 6: Installatiekunst
November 3rd, 2012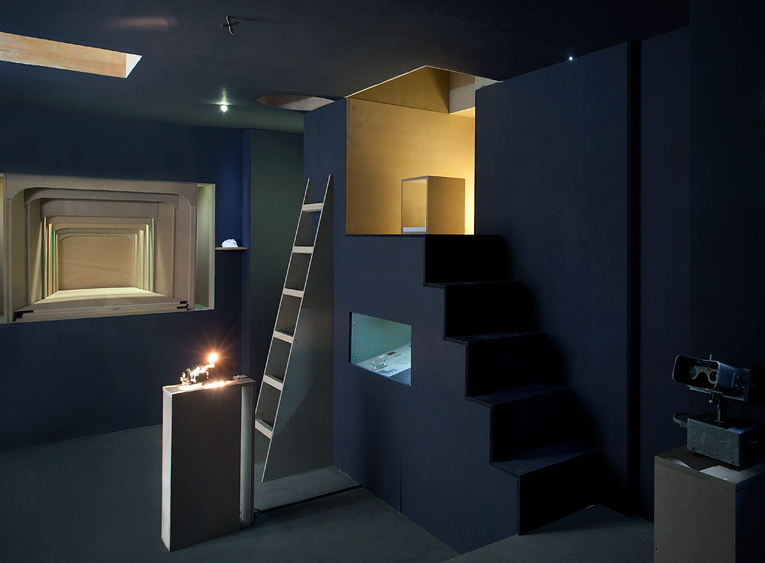 Aflevering zes van ArtMen gaat over installatiekunst. Worden moderne kunstenaars nog geïnspireerd door dit genre? En is dit voor de kijker als zodanig te herkennen?
In deze aflevering van ArtMen alles over gevonden, aangespoelde, alledaagse en gerecyclede voorwerpen. De internationaal beroemde Vlaamse kunstenaar Arne Quinze ontwierp in de Rotterdamse Kunsthal een enorme installatie van sloophout. In een oude elektriciteitsfabriek in Den Haag maakte Onno Dirker een verstild poëtisch werk van snoeppapiertjes te midden van de overweldigende industriële ruimte. Doina Kraal verstopte video's en foto's in haar installatie 'In de Rarekiek'; een levensgrote kijkdoos van 9 meter lang en 4 meter breed.
Kunstenaar Midas Zwaan leeft tussen en werkt met spullen uit de kringloopwinkel die hij transformeert tot unieke beelden.
Beeldend kunstenaars David Bade en Jasper Krabbé leggen de link tussen het werk van moderne kunstenaars en beroemde genres uit de beeldende kunst.
Deze uitzending van ArtMen is op 4 november te zien om 18.50 op Nederland 2.
Finissage In de Rarekiek
October 9th, 2012
In de Rarekiek
July 28th, 2012
Voormalige Stadstimmertuin Amsterdam: Doina Kraal
In de Rarekiek
14 September – 21 October 2012
Foam presents Doina Kraal's installation In de Rarekiek, in cooperation with the Soledad Senlle Art Foundation. Unique for Foam is that the work will be on view in Kraal's project space, at the Voormalige Stadstimmertuin 4-6 in Amsterdam, where she has worked on the installation over the past year.
Doina Kraal creates installations on location, making use of video, photography and sculpture. In these installations Kraal creates her own personal world – recognisable elements are juxtaposed against an unfamiliar reality. Realistic and artificial, old and new, and present and past alternate throughout the work. The In de Rarekiek installation allows the visitor to step into another world, a world which surprises and amazes. Kraal has designed a life-size diorama, nine metres long, four metres wide and two and a half metres high. Peepholes line the front of the structure. This diorama is a reference to the so-called 'Wunderkammer' produced in Europe during the Renaissance. It was a room full of curiosities and forerunner of the museum as institution. This cabinet of curiosities was the domain of scientists and intellectuals, where objects and strange articles were collected and classified.
With In de Rarekiek Kraal examines science from a strong desire for imperfection. Her search for imperfection and asymmetry breaks through the classical ordering and categorising of objects. The objects she displays are for the most part indefinable and cannot immediately be traced back to something, whereby the meanings are muted – creating an imaginative and magical microcosm.
In de Rarekiek can be considered as a key work in Kraal's oeuvre. Her studies over the past years of archives, stories and collections come together in this work. Fascinated by the present and the past, aspects in her work refer to her own memories and events, and she investigates her own worldview.
Doina Kraal (1980) graduated from the Fine Art and New Media department of the Gerrit Rietveld Academie in Amsterdam in 2002. She then earned a Master in Fine Art at the Central Saint Martins College of Art in London. Her work has been shown in the Point Blank Gallery, Johannesburg (2005), Times Square Gallery, New York (2008), Museum Boymans van Beuningen, Rotterdam (2010), Soledad Senlle Gallery, Amsterdam (2011) and other locations in the Netherlands.
In de Rarekiek by Doina Kraal can be seen from 14 September to 21 October 2012 at the Voormalige Stadstimmertuin 4 – 6 in Amsterdam. Open from Thursday- Sunday 12 am – 6 pm.
Note to editors: For information and visual material please contact the communications department, e-mail foam[at]foam.org or phone +31 (0)20 5516500.
In de Rarekiek is a collaboration between Foam and 'Soledad Senlle Art Foundation'. This project is subsidized by het Amsterdams Fonds voor de Kunst and Gemeente Amsterdam Stadsdeel Centrum. www.soledad.nl
Foam is sponsored by the BankGiroLoterij, De Brauw Blackstone Westbroek, Delta Lloyd and the VandenEnde Foundation.
Foam
Keizersgracht 609
1017 DS Amsterdam
phone: + 31 (0)20 5516500
www.foam.org
Kunst aan de Schinkel
September 18th, 2011
September 18 – October 31, 2011 – KADS [Kunst aan de Schinkel] Art manifestation in public space
Nieuwe Uitleenschatten
July 20th, 2011
Nieuwe Uitleenschatten, Der Aa-kerk, Groningen, CBK Groningen en SBK Amsterdam, NL, 29 juli t/m 11 augustus 2011
Recollected
June 25th, 2011
June 25 – 26, 2011 – Recollected, Glazenhuis, Stichting ZET, Amsterdam, NL
Window stickers in the Glazenhuis in the Amstelpark, Amsterdam
Duo show at Art Amsterdam
May 26th, 2010
May 26 – 30, 2010 – duo show with Greg Streak for Soledad Senlle Gallery at Art Amsterdam (stand 133)
Repelsteeltje
April 4th, 2010
April 2010, Repelsteeltje, site-specific installation in collaboration with Mara Liem at the Agrarisch museum Westerhem in Middenbeemster
Duo show at Galerie 32-34
February 27th, 2010
February 27 – April 10, 2010 – duo show with Marenka Gabeler, Galerie 32-34, Amsterdam, tuesday-saturday 11 – 17 hours